Name: Lance Hart
Nickname (Optional): #BabyJesus, The Chief of Staff, Cyanide's Right Hand
Picbase: Rockstar Spud
Heel/Face/Tweener: Heel
Height: 5'4"
Weight: 140lbs
Hometown: Calgary, Alberta, Canada
Entrance Theme: Shoot To Thrill by ACDC
Wrestling Style: Coward, Acrobatic
Gimmick: Troy Archello's former friend, Lance has turned on him in favor of the deranged Cyanide. He was made the Chief of Staff my his maniacal boss and runs around doing his dirty work angering superstars and booking matches that he approves of.
Common Moves: Split Legged Moonsault, Standing Shooting Star Press, Corcksckrew Moonsault, Corckscrew Plancha, Tornado DDT, Step Up Enzuigiri, Basement Dropkick, Suicide Dive, Flipping Neckbreaker, Shooting Star Plancha, Slingblade, Tilt-A-Whirl Headscissors, Sit Out Jawbreaker, Turnbuckle Complete Shot, Single Knee Facebreaker, Double Knee Backbreaker, Roundhouse Kick
Signature Moves (5 Max): Baby Jesus Kick (Superkick), Flash Bomb (Sunset Flip Powerbomb), Smexy Sault (Lionsault), Leo-Tamer (Liontamer), Rolling Stampede (Swanton Bomb)
Finisher(s) (3 Max): The Canadian Destroyer (Flip Piledriver), The Calgarian Twist (The Hart Lock), The Hart Stopper (630 Senton)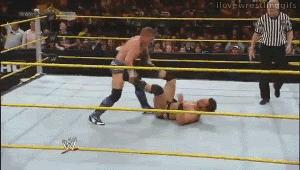 Manager Name: Heather Olsen
Nickname: "The Law of the land"
Picbase: Emma
Gimmick: Lance's conceited girlfriend. She's extremely protective of him and will fight even the fiercest of foes to defend him (mainly because even she realizes that she is tougher than him, even tho for his ego's sake she won't outright say it.)